Cosmic Fantasy Stories
Cosmic Fantasy Stories was released on 3/27/92 for ¥7800.

Telenet scans
Click here to see the cover of the manual.
Click here to see the back insert.

(These wondrous pictures were made with a fax machine!)

This is a compilation disc of CF1 and 2. I've finally picked up a copy and based on the few pictures in the manual and other sources, I believe that at least some of the CF1 cinemas may not be redone. It's hard to say. Riot may have used PC-Engine pics?

Judging from this combat picture from the CF1 part (I can tell because the 2 characters are Yuu and Monmo and in CF2, you always have either Van or Rim), it seems the interface is like that of CF3. However, the manual never shows the characters' faces (as 3 has), so it seems like Riot tossed this together before CF3's interface was finalized. I have no doubt that the MegaCD could handle that sort of interface. Riot wasn't one of my favourite teams.

Well, I can't think of anything else noteworthy to say. So, here come some more giant fax pictures! (If I shrank them, you wouldn't be able to tell what they were at all. Besides, the files are pretty small.) Due to server space problems, I don't know if I'll ever be able to replace them with colour scans.

Cosmic Fantasy pictures...er...faxes:

Yuu in an action pose!

Yuu and his favourite gun.

Saya using her magic.
Cosmic Fantasy 2 faxes:

Little Fox.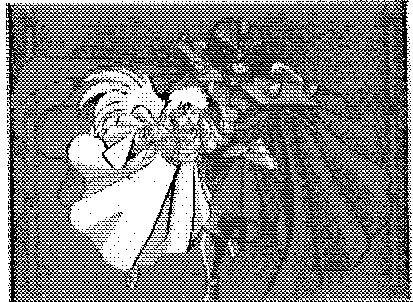 Laura is captured by Galam! Incidentally, a picture very like this was used in a flashback in Cosmic Fantasy 4 Chapter 2. Oooh! Cross-platform influences!
Back to the Cosmic Fantasy Home Page.
(Last updated 11/20/99)